The Sarasota School of Architecture
Years: 1941 to 1966
Location: Sarasota, Florida
In the sun-drenched landscapes of Sarasota, Florida, between 1941 and 1966, a remarkable architectural movement emerged – the Sarasota School of Architecture. This unexpected burst of creativity captured the imagination of the international architectural community. Rooted in the local climate, construction practices, regional culture, and the Floridian lifestyle, this movement would become a high point in the development of regional modernism in American architecture.
The Sarasota School of Architecture, although not a consciously organized movement, stands as an essential chapter in American modernism, a chapter that has received relatively little scholarly attention compared to its significance. Architects such as Ralph Twitchell, Paul Rudolph, Mark Hampton, Victor Lundy, and Gene Leedy were among its practitioners, leaving a lasting legacy in the architectural world.
Unique Characteristics:
Integration of Nature: The Sarasota School architects were masters at integrating the natural environment into their designs. Large windows, open spaces, and the use of natural materials allowed a seamless connection between indoors and outdoors. It was a celebration of Florida's lush landscapes.

Horizontal Embrace: The low, horizontal profiles of Sarasota School buildings not only harmonized with the flat Floridian landscape but also provided shade and protection from the tropical sun.

Innovative Materials: Architects of this era were pioneers in using innovative materials and construction techniques, pushing the boundaries of design possibilities.

Sustainability: The architects of the Sarasota School demonstrated a commitment to sustainability, maximizing natural ventilation and minimizing the need for excessive artificial cooling, principles that resonate strongly with modern sustainable architecture.
Personal Note:
Adding a personal touch to this architectural journey is the involvement of a family member associated with this historic movement. Their connection enriches the narrative, offering a unique perspective and a link to the stories and history behind these architectural treasures. It underscores the enduring significance of preserving the Sarasota School architectural heritage.
Today, Sarasota is celebrated not only for its thriving arts scene and contemporary structures but also for the enduring charm of the Sarasota School of Architecture. These mid-century modern gems continue to inspire, thanks to their thoughtful design principles that blend seamlessly with contemporary sustainable design styles. The Sarasota School architects, including Philip Hiss, Paul Rudolph, Ralph Twitchell, Victor Lundy, and Jack West, created timeless structures that remain relevant in the modern world.
As you embark on your exploration of Sarasota School architecture, discover some of the most intriguing and accessible examples featured in the "Tour Sarasota Architecture" guidebook, offered by the Sarasota Convention & Visitors Bureau. These architectural gems, including the iconic


Umbrella House (1953)
1300 Westway Dr.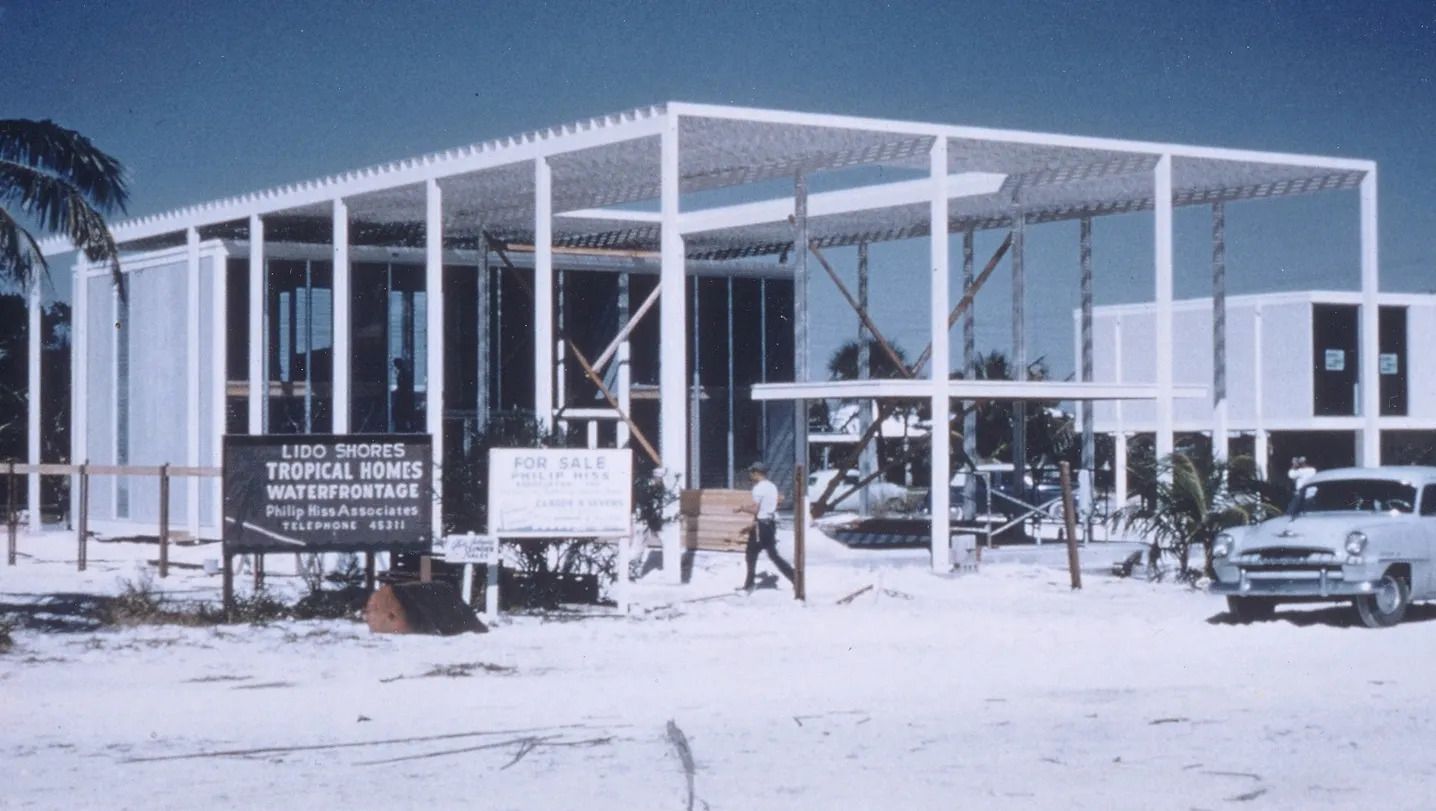 This Lido Shores home, designed by Paul Rudolph, is arguably Sarasota's most notable. In 2005, it was purchased and restored by museum exhibit designers Vincent and Julie Ciulla. The simple, stately cube home is shaded with a trellis-like "umbrella" installed by the couple after the original was destroyed in a storm. "It gets all of its fame from the outside, but the inside is really the beauty of it," said Vincent Ciulla, who offers tours for a fee. "It's a bunch of planes and surfaces and lots of movement in the space. Rudolph played with the space in a very beautiful, balanced way.
Hiss Studio (1953)
1310 Westway Dr.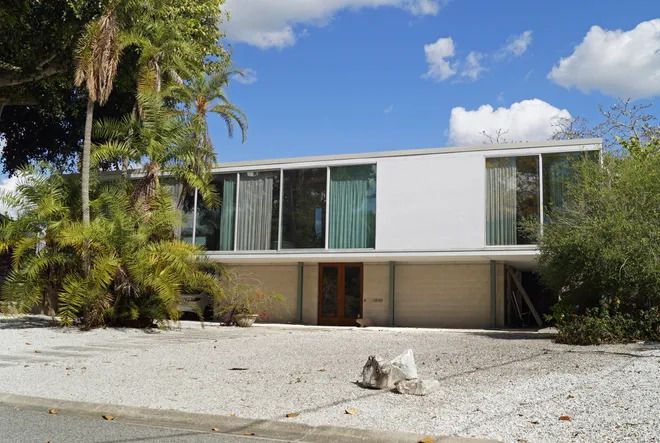 Next door to the Umbrella House is Hiss' original studio, a glass rectangle raised on steel columns that was one of the first air-conditioned spaces in Sarasota. While you're in Lido Shores, use the "Tour Sarasota Architecture" guide to walk or drive by more than a dozen other Sarasota School homes.
Sarasota City Hall (1966)
1565 1st St.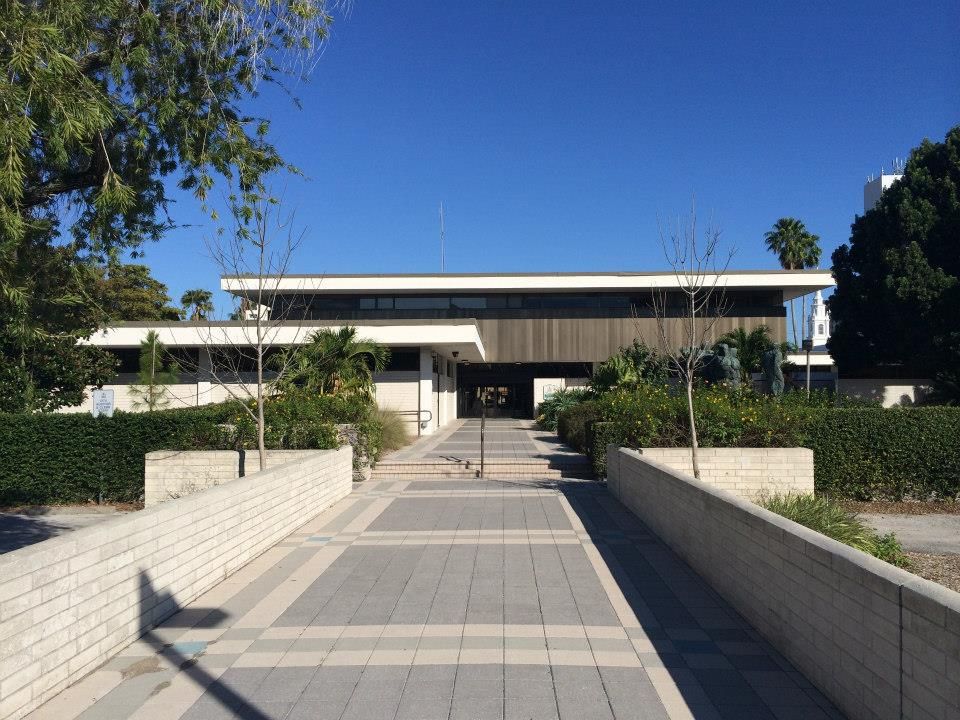 Situated downtown on a lush lawn, the white, low building is filled with angles and planes. Architect Jack West allowed for natural light but added overhangs to keep out the direct sun.


Joe Barth Insurance Office (1957)
25 S. Osprey Ave.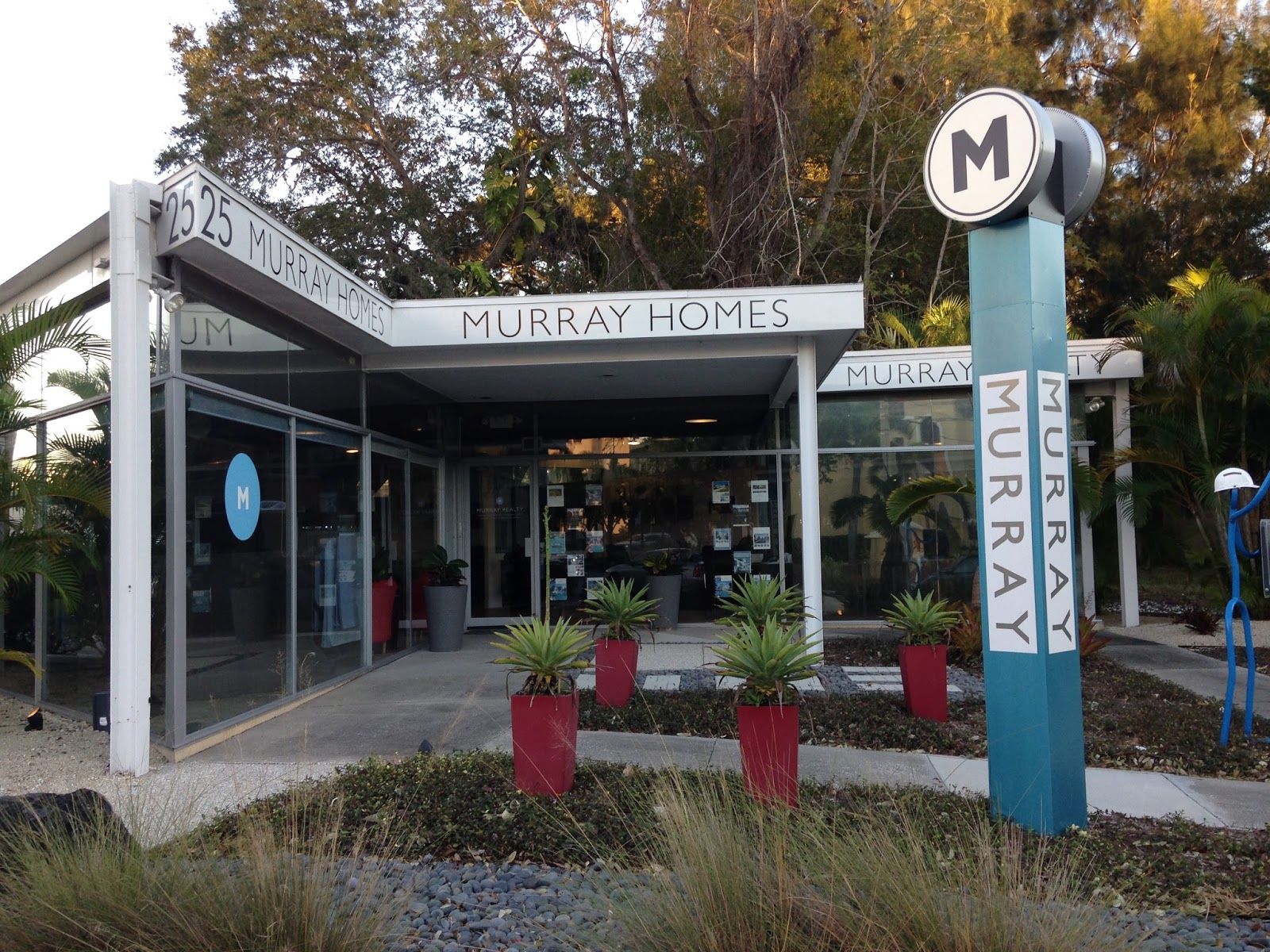 Many businesses have come and gone in this angular structure featuring floor-to-ceiling windows and steel columns, designed by Victor Lundy. Its current occupant, Genevieve Tomlinson, owner of Zen Body-Zen Health and Asian Tea Bar, says customers appreciate the integration of exterior and interior. "It's like being outside when you're inside."



St. Paul Lutheran Church Fellowship Hall (1959) and Sanctuary (1968)
2256 Bahia Vista St.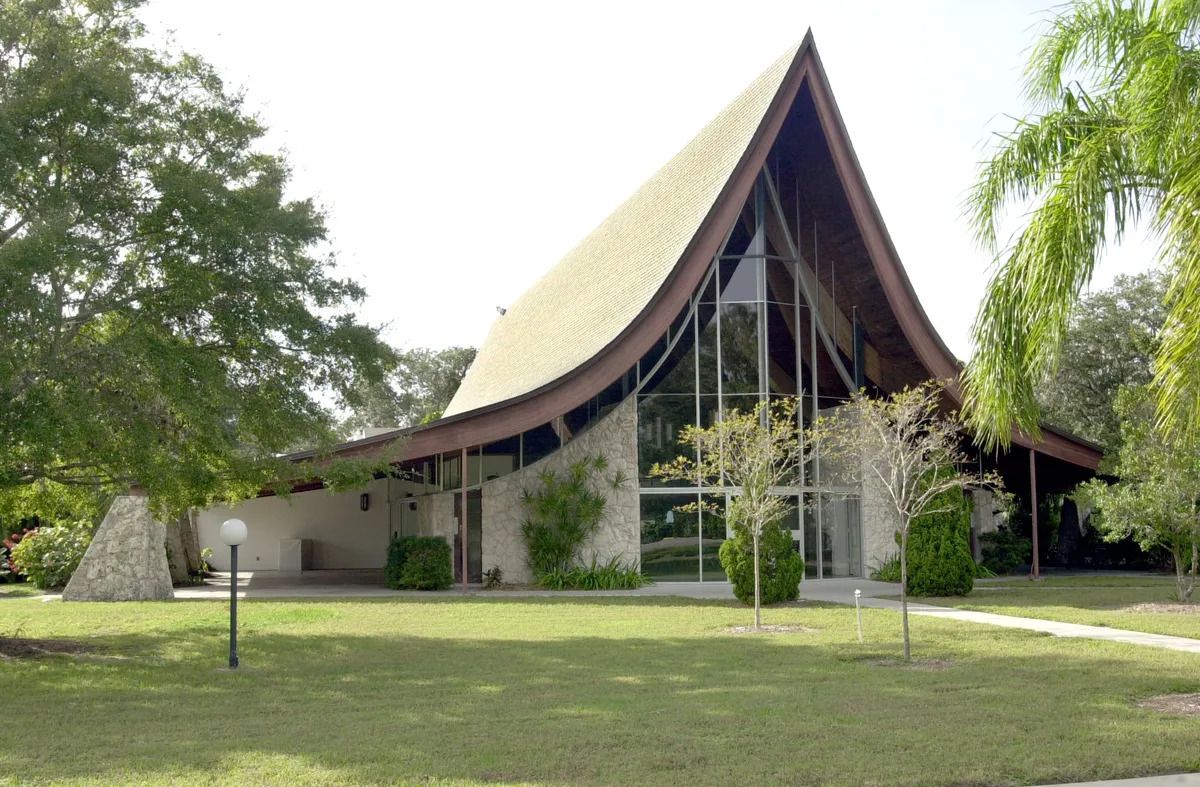 Parish administrator Arleen Austin is accustomed to receiving visitors. "We get tourists from all over the world familiar with Victor Lundy and wanting to see his architecture," he said. Admirers are drawn to the simple, soaring lines of both buildings and to the altar wall, dramatically lit by window slits along the tall sloping roof.


Sarasota High School Addition (1960)
1000 School Ave.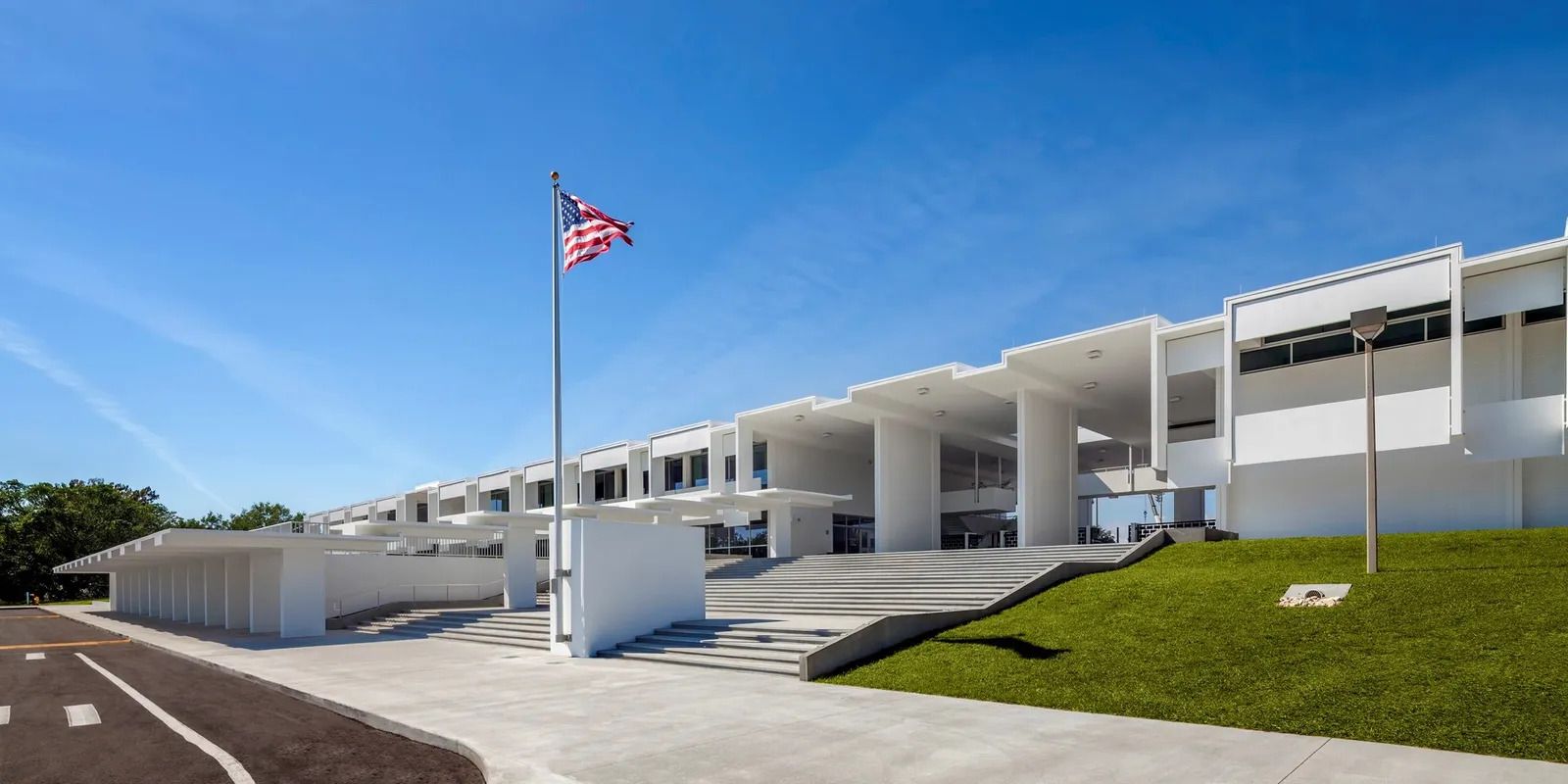 Architect Paul Rudolph designed many public buildings. Sarasota and the former Riverview high schools were among the best known. After much outcry, Riverview, beset with maintenance issues, was demolished in 2009. However, the addition Rudolph designed here is not only intact but receiving a needed renovation in 2012, said administrative assistant Lyn Campbell. The minimalist, all-white structure includes large openings for ventilation, raised floor levels and shaded areas on the stairs.
South Gate Community Center (1956)
3145 South Gate Circle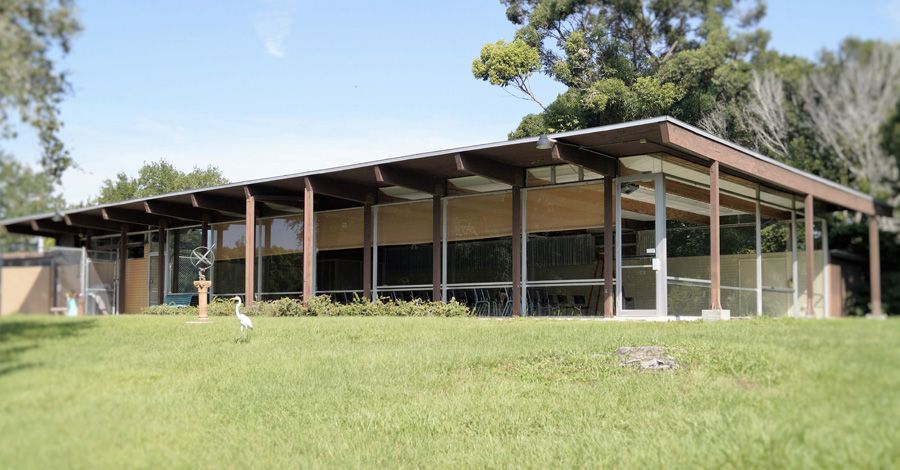 Walk to the back of this serenely sited neighborhood center to see Victor Lundy's large, sleek glass room, with newly restored terrazzo floors, used as a social hall. "This is a well-loved building," said manager Dan Beswick. Next on his wish list is to remove the acoustical tile ceiling and restore the original pine. The center, set on five acres along Phillippi Creek, is also a perfect picnic spot.
---
With your tour complete, you may be in the mood for some mid-century modern merchandise. If so, Jack Vinales Antiques, 500 S. Pineapple Ave., is the place to shop. Vinales, in business since 1992, stocks furniture, dinnerware, jewelry, and art from the 1930s through the 1960s, with a specialty in mid-century furnishings and lighting.

If your interests extend to bigger-ticket items, such as a mid-century home, Sarasota realtor Martie Lieberman of Modern Sarasota specializes in them and lives in them herself. Lieberman is a founder of the Sarasota Architecture Foundation, which occasionally hosts Sarasota School lectures and building tours.
---
Explore, appreciate, and be inspired by the timeless beauty and innovation of the Sarasota School of Architecture. This architectural movement stands as a testament to the ingenuity of its creators and the enduring relevance of its design principles. The Sarasota School's seamless integration of indoor and outdoor spaces, its sustainable design ethos, and its harmonious relationship with the natural environment continue to captivate architects and enthusiasts alike.
But our community is not just about architectural history; it's also a place where the spirit of the circus comes alive. Sarasota holds a special place in the heart of circus enthusiasts as the historic winter home of the Ringling Brother's Circus. This rich legacy lives on, and we're proud to celebrate it.
The Ringling Museum, a treasure trove of circus history and art, invites you to step into the captivating world of the circus. Explore its vast collection of memorabilia, admire the grandeur of circus wagons, and be enthralled by the stories of circus performers who've graced our town.
The Ringling School of Art, on the other hand, nurtures creativity and artistic expression. It's a place where the legacy of artistic innovation continues to thrive. Discover the talents of budding artists and their contributions to our vibrant arts community.
As we continue to embrace our heritage and celebrate our unique culture, we echo your sentiment that it's time to introduce a dedicated
SARASOTA BRADENTON
This button will not only be a gateway to our architectural treasures, circus history, and artistic achievements but also a testament to the spirit of community that unites us.
We're excited about the possibilities that lie ahead and look forward to making these important additions. Stay tuned for more updates as we work towards creating an even more vibrant and informative online space for our beloved Sarasota community.
---
Meet Tonna Gruber
REALTOR®
Team up with Tonna, a trusted and knowledgeable neighborhood partner to make your real estate dreams come true. Local resident expert since 1994, she knows this area - the right pricing, the latest listings, and the buzz around town. From search to sale, she'll provide expert advice and unwavering support to help make your experience stress-free. Tonna has strong negotiation skills, 5-star service, and a track record to back it up.
She has access to comprehensive, up-to-the-minute listing information giving her the edge necessary in today's fast-paced market. Whether it's finding you home with everything on your checklist, or helping you get ready to move, she's got you covered - advertising, financing, inspection and closing assistance.